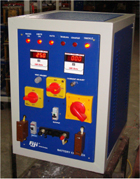 Fiji Electronics Pvt. Ltd. manufactures Battery Charger of various capacities with wide range of DC output voltage and charging current. We also undertake manufacture of customer specified Battery Chargers.
SPECIFICATION OF BATTERY CHARGER:
Constant Ampere Battery Charger.
Boost & Float Charging of Battery
Digital display of Battery Voltage and Current.
AC Line Voltage is also displayed.
Battery Charger operating range is 130V- 270V AC.
Reverse Polarity protection is in built.