OUR PRODUCTS
VOLTAGE STABILISER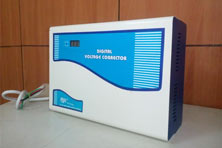 We Also manufacture Wall mounting Automatic Voltage Stabilizers. These Stabilizers are Specially designed to use with AC machines.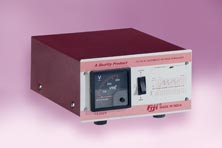 Wide fluctuation of main supply voltages is harmful for T.V., Refrigerators, Vacuum Cleaner, Air Conditioner etc. Fiji Electronics Pvt. Ltd. have designed voltage stablizer which gives an output which normally varies between 200V – 240V±1% which is considered safe limits of such equipments and appliances.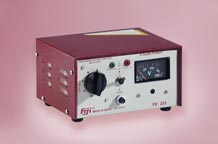 There are two types of Voltage Stabilizers suitable for use with domestic appliances (1) Manual Voltage Stabilizers, (2) Automatic Voltage Stabilizer.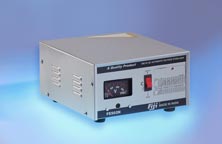 1.Manual Voltage Stabilizer consist of a Single Phase Auto Transformer with multiple taps. The taps are selected with the help of a Rotary Switch of appropriate rating to give the desired output with a wide variation of input voltage i.e. from 50V-280V.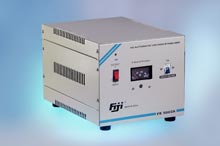 2.An Automatic voltage stablizer also uses an auto transformer with several tappings and a control circuit. The solid state electronic controller senses the label of input supply and sends the required command signal to actuate electro magnetic relays to select a particular transformer tapping thus manufacturing the output voltage within the safe limit.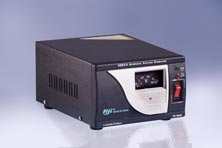 FIJI has got both the stablizers of various capacities for domestic use starting from a Minimum of 100VA to Maximum of 20KVA.
(Manual Auto Cut)
| | | | |
| --- | --- | --- | --- |
| Model | Capacity | Input Range | Output Range |
| FE 222 | 200VA | 90V – 300V | 225V ± 9% |
| FE 508 | 500VA | 80V – 300V | 225V ± 9% |
| FE 505 | 500VA | 50V – 300V | 225V ± 9% |
| FE 1M | 1KVA | 80V – 300V | 225V ± 9% |
| FE 2M | 2KVA | 80V – 300V | 225V ± 9% |
| FE 3M | 3KVA | 80V – 300V | 225V ± 9% |
| FE 4M | 4KVA | 80V – 300V | 225V ± 9% |
| FE 5M | 5KVA | 80V – 300V | 225V ± 9% |
| FE 7M | 7KVA | 80V – 300V | 225V ± 9% |
| FE 1MS | 1KVA | 50V – 300V | 225V ± 9% |
| FE 2MS | 2KVA | 50V – 300V | 225V ± 9% |
| FE 3MS | 3KVA | 50V – 300V | 225V ± 9% |
| FE 4MS | 4KVA | 50V – 300V | 225V ± 9% |
| FE 5MS | 5KVA | 50V – 300V | 225V ± 9% |
| FE 7MS | 7KVA | 50V – 300V | 225V ± 9% |
| FE 10M | 10KVA | 80V – 300V | 225V ± 9% |
| FE 5KVA (2 PHASE) | 5KVA | | |
( A U T O M A T I C )
| | | | |
| --- | --- | --- | --- |
| FE 502N(Economy) | 500VA | 130V – 280V | 200V - 240V ±1% |
| FE 501 | 500VA | 160V – 275V | 200V - 240V ±1% |
| FE 501V | 500VA | 160V – 275V | 200V - 240V ±1% |
| FE 502 | 500VA | 130V – 280V | 200V - 240V ±1% |
( A U T O M A T I C )
| | | | |
| --- | --- | --- | --- |
| Model | Capacity | Input Range | Output Range |
| FE 502D | 500VA | 130V – 280V | 200V - 240V ±1% |
| FE 502V | 500VA | 130V - 280V | 200V - 240V ±1% |
| FE 555 (With Cut Out) | 500VA | 130V – 280V | 200V - 240V ±1% |
| FE 504V | 500VA | 100V – 280V | 200V - 240V ±1% |
| FE 550 (With Cut out) | 500VA | 50V – 265V | 200V - 240V ±1% |
| FE 1001V | 1KVA | 175V – 275V | 200V - 240V ±1% |
| FE 1003V | 1KVA | 130V – 280V | 200V - 240V ±1% |
| FE 1004V | 1KVA | 100V – 280V | 200V - 240V ±1% |
| FE 1006V(With Cut Out) | 1KVA | 50V – 265V | 200V - 240V ±1% |
| FE 2003V | 2KVA | 130V – 280V | 200V - 240V ±1% |
| FE 2004V | 2KVA | 100V – 280V | 200V - 240V ±1% |
| FE 2006V(With Cut Out) | 2KVA | 50V – 265V | 200V - 240V ±1% |
| FE 3001V | 3KVA | 175V – 275V | 200V - 240V ±1% |
| FE 3002V | 3KVA | 160V – 275V | 200V - 240V ±1% |
| FE 3003V | 3KVA | 130V – 280V | 200V - 240V ±1% |
| FE 3004V | 3KVA | 100V – 280V | 200V - 240V ±1% |
| FE 3006V(With Cut Out) | 3KVA | 50V – 265V | 200V - 240V ±1% |
| FE 4002V | 4KVA | 160V – 275V | 200V - 240V ±1% |
| FE 4003V | 4KVA | 130V – 280V | 200V - 240V ±1% |
| FE 4004V | 4KVA | 100V – 280V | 200V - 240V ±1% |
| FE 5001V | 5KVA | 175V – 275V | 200V - 240V ±1% |
| FE 5002V (LINE LOAD) | 5KVA | 130V – 280V | 200V - 240V ±1% |
| FE 5003V | 5KVA | 160V – 270V | 200V - 240V ±1% |
| FE 5004V | 5KVA | 100V – 280V | 200V - 240V ±1% |
| FE 5005V | 5KVA | 150V – 280V | 200V - 240V ±1% |
| FE 5006V (With Cut Out) | 5KVA | 50V – 265V | 200V - 240V ±1% |
| FE 6002V | 6KVA | 160V – 270V | 200V - 240V ±1% |
| FE 6003V | 6KVA | 130V – 270V | 200V - 240V ±1% |
| FE 6004V | 6KVA | 100V – 280V | 200V - 240V ±1% |
| FE 7003V | 7KVA | 130V – 280V | 200V - 240V ±1% |
| FE 7004V | 7KVA | 100V – 280V | 200V - 240V ±1% |
| FE 8003V | 8KVA | 130V – 280V | 200V - 240V ±1% |
| FE10003V | 10KVA | 130V – 280V | 200V - 240V ±1% |
| FE10004V | 10KVA | 100V – 280V | 200V - 240V ±1% |
FOR AC ONLY
| | | |
| --- | --- | --- |
| FE 3002A (FOR 1 TON AC) | 160V - 270V | 200V - 240V ±1% |
| FE 3003A (FOR 1 TON AC) | 130V - 270V | 200V - 240V ±1% |
| FE 3004A (FOR 1 TON AC) | 100V - 270V | 200V - 240V ±1% |
| FE 5003A (FOR 1.5 TON AC) | 160V - 270V | 200V - 240V ±1% |
| FE 5002A (FOR 1.5 TON AC) | 130V - 270V | 200V - 240V ±1% |
| FE 5004A (FOR 1.5 TON AC) | 100V - 270V | 200V - 240V ±1% |
| FE 5005A (FOR 1.5 TON AC) | 150V - 270V | 200V - 240V ±1% |
| FE 6002A (FOR 2 TON AC) | 160V - 270V | 200V - 240V ±1% |
| FE 6003A (FOR 2 TON AC) | 130V - 270V | 200V - 240V ±1% |
| FE 6004A (FOR 2 TON AC) | 100V - 270V | 200V - 240V ±1% |